BY E-MAIL – Deputy Prime Minister and Minister of Finance Minister of Transport
Support aviation and aerospace workers
TAKE ACTION: Support aviation and aerospace workers « Canada's NDP
Air transportation and aerospace are among the sectors most affected by the COVID-19 pandemic.
Since the onset of this pandemic, tens of thousands of direct jobs have been lost across the country.
These are not just numbers. Families and communities have been devastated.
If there is no federal intervention, tens of thousands of more jobs will be lost.
But despite numerous calls for help, Justin Trudeau is slow to intervene.
Justin Trudeau is willing to do anything for his rich friends, but when it comes to workers, he asks them to wait.
Elsewhere in the world, many countries have already made significant efforts to support workers in the air transport and aerospace sectors.
It's time for the federal government to do its part.
We in the NDP want to protect these good jobs and help workers in these sectors.
That is why we are calling for immediate, strategic and specific assistance for these sectors which will:
• Force companies to use the wage subsidy program to protect jobs and wages.
• Ensure that all the rules in the Canada Labour Code, collective agreements and health and safety requirements are respected.
• Ensure that public financing supports workers and jobs directly by preventing further layoffs and encouraging re-hiring laid off workers.
• Ensure that companies receiving public funding do not offer bonuses to senior executives and donot distribute dividends.
• Ensure that funds extended to companies include an equity stake that will guarantee protection of the public interest.
• Ensure that public funds support workers and consumers alike and will not force air transport companies to choose between protecting jobs and refunding passengers for cancelled flights.
• Support a national strategy for aerospace that supports workers and jobs in Canada.
• Put in place adequate support for NAV-Canada to preserve and restore it's work force and continue to deliver its key services
Tell Justin Trudeau's Liberals to act now to protect air and aerospace workers.
Federal Government Should "Absolutely" Support Canada's Airlines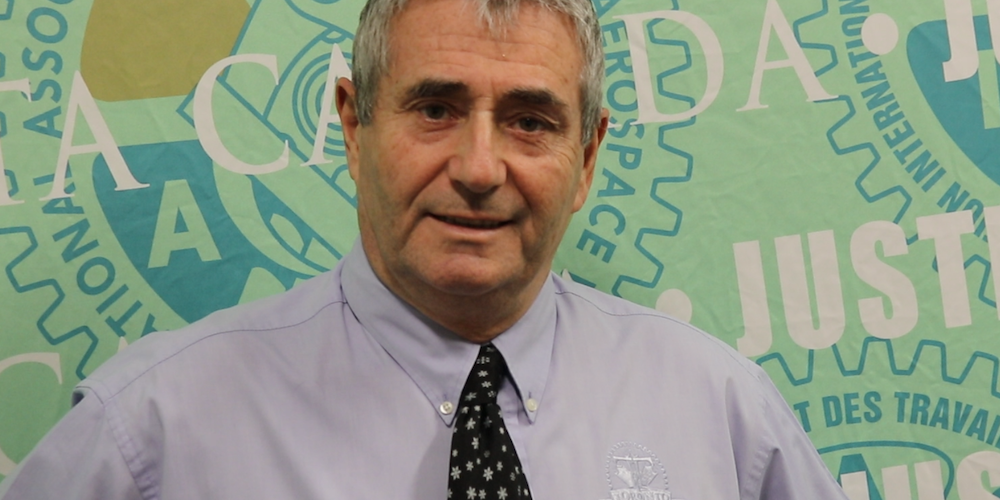 October 2, 2020 – "The Federal Government should absolutely support Canada's airline and air transportation industry!" This was the unequivocal statement of Stan Pickthall, Canadian General Vice President of the Machinists Union (IAM). "This is a position we have taken throughout the pandemic, and one that we have published in two releases on our website."
Pickthall applauds the recent addition of other Airline Unions who are now taking strong positions on this campaign. "Most of the major Unions representing workers in air transportation are now backing the call for assistance to be provided to the airlines and air transportation companies, who have been devastated beyond belief by this pandemic. Together we are stronger!"
"Air Canada alone lost in excess of $1 Billion in the second quarter of 2020, and the news will soon come out for Q3 – which looks like it will be much the same. Without much-needed Federal assistance for this industry, we could soon be facing bankruptcies by even the major players."
However, the IAM says that Government assistance must provide assurances to protect workers in Canada's air transportation industry. Specifically, it must be conditional upon an employer plan and commitment to make the protection and creation of jobs a condition of the loan.  "Any Federal funds to airlines must not be used for executive compensation and bonuses," stated Pickthall. "We have played that movie before, and we do not support bailouts for executives."
Air Canada alone has laid off in excess of 20,000 employees, many of whom are IAM Union members. The IAM has seen furloughs of almost half its membership at Air Canada over recent months after the Company discontinued the federal wage subsidy (CEWS) program among its unionized employees.
"Corporations must have a plan that protects the jobs and salaries of workers; this plan must have as its goal the return to work of their entire workforce." Pickthall concluded.
The IAM is the largest Union representing almost 20,000 workers at Airlines and Air Transportation across the country. The IAM has posted numerous and regular communications to its membership over the past six months – many of which are in response to the COVID Pandemic and the economic impacts on workers.
For more information: http://www.iamaw.ca/covid-19-news/
-30-
Media Contact:
Frank Saptel; Stan Pickthall.  416-386-1789